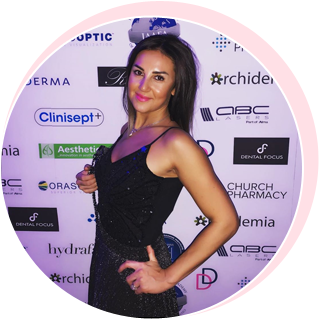 About Dr Zena Aseeley
Dr Zena graduated from Cardiff University gaining her Bachelor in Dental Surgery with an honours degree. During her final year, she won the Coltene/Whaledent prize for Restorative Dentistry at graduation and presented a highly involved restorative case, which showed several disciplines in dentistry.
In her final year thesis, she carried out research on dental materials and is proud to be co-author of 3 published papers in the International Endodontic Journal.
Previous to studying Dentistry she completed a Bachelor of Sciences degree in Dental Technology at the University of Wales, Institute of Cardiff in 2004. She completed her vocational training in Wales, followed by a placement at the Morriston Hospital in Swansea on the Restorative Department.
Dr Zena is an accredited provider of a few adult cosmetic orthodontic systems; Invisalign orthodontic aligners, Six Month Smiles cosmetic braces, C Fast self -ligating braces and Smile TruR clear orthodontic aligners. Together with Dr Zena you can choose the system most suitable for your treatment needs.
She is a fully certified Enlighten teeth whitening provider; the only guaranteed whitening system available, Phillips ZoomR Laser Whitening as well as prescribing and providing her patients with safe take-home whitening systems. She is very keen that whitening is carried out following an examination to highlight any areas that may be of concern or require treatment before clients whiten their teeth. She has achieved really great results using all the platforms for teeth whitening.
Dr Aseeley also offers facial aesthetics treatments including and anti-wrinkle injections and dermal lip fillers and was trained by internationally recognized Professor Bob Khannaat his UK academy. Zena has excitingly completed the advanced lip masterclass. This is a technique designed by Professor Khanna for recreating fuller lips but with the natural, heart-shaped appearance of lips.